12/31/07
So it's the last day of 2007; how bizarre. Time just keeps rushing, doesn't it?

Well, I was thinking about how to end my blog for this year, and I had a little thought.

First of all, the universe provides for you if you want it and work for it. Why am I suddenly all philosophical? Well today I was sitting around, getting myself ready for a mellow night with some friends, and just thinking about how weird it is that I am not working tonight. The first new years in 11 years not working. I'm usually ringing in the ball dropping while on stage.

But I figured that if I had worked this week, I would've missed my brother's big birthday party, and that would've sucked. So if I had to miss a new years, at least I had a good reason for it. (Incidentally, you can see some great pics from that party on my MySpace Page.)

Anyway, so I'm getting ready and then my cel phone rings. It's the manager of the Miami Improv asking if I can do the new years show. Wow! I mean seriously, wow! Isn't that crazy?! I mean I got to go to my brothers' party AND I'm still working new years! If that's not a sign that things are meant to be, or that if you want something enough you'll get it...hell, I don't know what is.

so with that happening, I decided to (clicé as it sounds) list my new years resolutions. So, in no particular order, here they are:
Be more self aware of my feelings in situations. In other words, it's ok to put myself first sometimes.
Take chances.
Get on more high profile TV shows.
Go to the beach and watch.
Take Skippy to a higher level.
Edit and release my 2 new DVDs.
Smile to a stranger once a day.
Remember that life is about living it, not just living through it.
Go back to Europe.
Start headlining more clubs.
Get all of "The 5 Things"
Try to hang out at places other than the Improv...(not that I hate it, I just need to broaden my horizons)
Speak my mind and my heart whenever possible.
Try to forgive and forget, and try to get forgiveness as well.
Connect with an old high school friend.
Pay my parents back some more money.
Be there for my cousin's bar mitzvah.
Have more 80's Trivia contests on my site. ;)
Be happy.
Be sad.
Remember that they balance each other out. You're only human afterall.
Try to write more.
Get the two big projects off the ground.
Get an agent and manager.
Met Steve Martin.
Read more.
Every so often, splurge.
Get to Vegas with my roommate...finally.
I'm sure there are more, but that's what came to mind right now.
I really am going to try to do everything on that list.
Alright kids, I'm off. Stay healthy and safe, and I really want to guys to know that I love you and I thank you all for your love and support...Skippy thanks you too.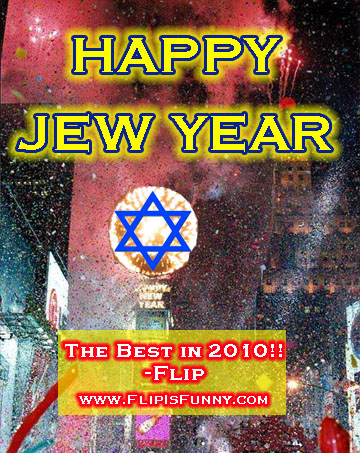 12/22/07
Hi guys, greetings from Florida. Gotta make this quick; I'm about to get to the Improv for my shows tonight. Why am I about to leave so early (4:00 PM)...because tonight I am taping all 3 of my shows for my new DVD! Very excited. I wish all of you could be there, but I guess you'll have to watch the DVD when it comes out.
Life has been good. I got to see a lot of family today at my cousin Faith's birthday party, and I'll see more tomorrow for my cousin Mathew's party. Oh, and today is also my brothers' birthday. Apparently a lot of people in my family fucked in March.
Hope you guys are having a happy holiday!
12/14/07
Well the votes are in and the winner is....not Skippy. Shang won. Now, before you all start writing emails to famecast (which I know you all would do...hehehehe), you should know that Skippy did win the votes for Critics Choice! That is really cool. I'll tell ya why. The winner of the contest itself is all about who's got the most internet votes; in other words, who's got the most myspace friends. And I really want to thank everyone who voted for me, I soooo appreciate it. Anyway, Shang has like 30,000 friends, so it's no wonder that he won...plus he is funny. If anyone else was going to win, I'm glad it was him.
But the critics choice, well that was the award given by the three experts who watched the show. To me that means more. Don't get me wrong, I'd have been happy with being the other winner and getting the money (oh the Jew), but this is something that was measured on pure talent. And Shang and Craig Carmean are both talented as well (the other 2 guys, well one of them is just starting out and the other, as he himself said, is an 'entertainer' not a comedian), but, in my humble (and slightly biased) opinion, Skippy is different. And funny. Which is rare.
I digress...I'm very happy to have been picked as the critics choice. Wish I had the money, but the award is a great consolation.
Tonight was great at the Improv. The late show was the Hispanic show and Gabriel Iglesias stopped by, and do did Carlos Mencia. Plus the place was packed! I wish I could've gone up. What was cool was that Gabriel reminded me that he texted me some knock-knock jokes for Skippy. I had forgotten that he had seen Skippy.
OK, back to Skippy for a second.
That's another cool thing about Skippy; comics love him! I have so many comics giving me knock-knock jokes, or trying to impersonate Skippy. Or just plain telling me how much they love the character. It's quite flattering. I really think I'm on to something big with "him". The trick is to make sure that people know that I (Flip Schultz) also do comedy. That's the Pee-Wee Herman curse.
Paul Ruebens (the guy who plays Pee-Wee) is a great actor, but no one knew that for awhile, they only knew him as PW. That was his downfall. I remember reading that he would (or could) only appear on TV shows as Pee-Wee, was always introduced as Pee-Wee, etc. I think on his movies he was credited as Paul Ruebens, but no one paid attention. The same with Sasha Baron Cohen and "Borat" or "Ali G"...well, Borat more. Although he has appeared in other movies as other people, so I guess not so much. But he made is clear that these were characters and always made sure his name was included in the credits.
So what else? Well, last night I slept for 15 hours. Yeah, I was a little tired. So tonight I'm still awake at 1:15 am...joy, no?
I'm going to try and pass out. In the meantime, here's a link to the video for Critics Choice at famecast. Enjoy.
Famecast.com "Critics Choice" Pick
Oh, just an FYI, I really hated that they kept showing that one fucking woman in the front who did not laugh once! Not once! And it's not bacause she is black and I did the "N Word" joke; she wasn't laughing at the beginning. She hardly laughed at anyone! Why the fuck would she come to a comedy show? And, more importantly, WHY THE FUCK WOULD THE CAMERA MAN KEEP SHOOTING HER???? Jesus titty fuck! OK, I'm done, night.
Actually I'm not done, not yet. Something else struck me about the contest. I went and read some of the comments on the other comics pages and one person said, "It's easy to do dirty humor about vaginas and ball sucking..." I guess they were saying to this particular comic that being dirty is easy, and specifically talking about Skippy.
Well first of all, it's ball licking. Get it straight. Secondly, if you're only hearing the profanity and not that there is a joke, or that this is a character, or that the use of the profanity is sometimes making a point, then you're an idiot. I'm sorry, but it's true. Granted, the "Man About Town" song is a song about going down on women. Is there an underlying meaning to it that explains life, the universe and everything? Nope, it's just a funny, filthy song. (Although I have to admit some of the lyrics are really clever...hehehe)
But the joke about fisting Barbara Bush, well that's a political joke. Granted it's filthy, but the idea behind it is there. I think I explained that the "N Word" joke is basically mocking racism and showing how any word is a bad word if you let it be. It's in the same style of Lenny Bruce and how he said that words are powerful when you give them power.
What else?
Ok, the knock-knock jokes, I think some of them are really clever. Yes, the punchline is "lick my balls", but getting there is the fun/clever part. I mean when you hear "Knock-Knock...Who's there?...Rachel" and know that somehow Skippy's going to get to lick my balls, most people are wondering "how the hell is he going to do this?" And then to come out with "Rach-a-little bit further back when you lick my balls", I think that's clever.
Am I tooting my own horn here? Absolutely. Is it a tad bit egocentric? You betcha. But I'm just stating my case and defending that what I do and say as Skippy is not just filth for filth's sake, there's a point to some of it...the rest is pure filth...but it's also funny. And that's one to grow on...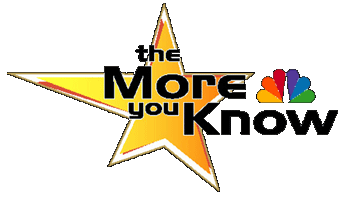 12/11/07
I had a fun night tonight. I did the Comedy Juice show at the Improv's in Brea and Irvine. Both of the shows went really well; I was very happy. Plus, at both shows, I had people there to actually see me! That always gets me. I know I've said this before, but to actually know that I have fans...well, it's just too weird. A good weird, a weird that puts a smile on my face.
Both of the shows I did so much improv (at the Improv, what are the odds???) and in Irvine I even came up with two new jokes on the spot. That's a great feeling, when I just let go and go with my instincts. And, like tonight, good things can come out of it.
So what else? Well, Skippy is 4th out of 5 on the famecast.com contest. I know I've been bugging the hell out of everyone with the emails and myspace bulletins, but I really do appreciate every, single vote you guys make for me. And I still need them. What's really cool is that Dan, the manager of the Brea Improv had his myspace guy send out a massive bulletin to their almost 70,000 friends to vote for Skippy! That was an incredible gesture.
Now some of you might think, "Well that's not fair. Now the contest is just a popularity thing; it's not really about talent" And you know what, you'd be right. Honestly, that's all this is. The fact that any of us can do exactly what I did proves that point. But I know that every other person in this contest (not just comedy, but all of the categories) did just that. Even if someone might think that another band, or poet, or dancer, or comedian is better, they'll vote for their friend. Unfortunately, that's how it works.
If the final winner was chosen by a panel of experts in Austin, then I think there'd be a fairness to it. But that's not how it goes. It's almost like American Idol, where experts pick the final performers, but the public picks the winner. Same with Last Comic Standing. Although both of those shows (and pretty much every reality show contest) has the initial finalists picked by producers and executives with little input or influence by the "judges". Trust me on that one.
I digress, my point is, I'm just playing the game as anyone else would. But another reason that I don't feel bad about doing this is that I really think my show was good...even great. Despite that awkward moment, which I recovered from quite well, (and I'm saying that based on more than one opinion I've heard) I think that doing a character like Skippy is something that hasn't been done in a while. There was Andy Kaufman (Tony Clifton), Martin Short (Jiminy Glick)...hell Garth Brooks had Chris Gaines. But as for today, there isn't anyone new doing it, not that I know of anyway. And the fact that I have an act for both myself and a character; that's pretty cool, no?
Wow, even I'm feeling my ego getting bigger and bigger. Hell, in this business you need to have a bit of an ego, right? I mean if I don't believe I'm good, why should anyone else?
Well kids, it's late and I've still got to brush my teeth, take out my contacts and say my prayers....Here, let me do the prayers now:
"Dear God, Buddha, L. Ron, 'Weird Al'...thank you for the wonderful life I am now living. Thanks for all of my friends (both MySpace and Facebook) and to the wondeful people who support me. Please bless my family whom I love with all of my heart, and my cats who I tolerate because they're so fucking cute. I also hope that the evil in the world subsides to the point that it's merely annoying, not so horrific. Like instead of war and disease, how about just some bad music on the radio and a little itch just under our foot...you know, so we'd have to stop what we're doing, sit down, take off our shoe and scratch it. It won't kill us or anything, but it will take a few minutes out of our day. Also, if it's in your divine wisdom, let Skippy win the contest. I mean he's been a good boy this year and he could use the publicity. He hasn't had a big break since Carson in '78. I'm sure there are other things I'm forgetting, but I'll hit ya up for those another time. Keep rocking and stay groovy. Your buddy, Flip.
...ps, I'd really like to get laid soon too. Thanks"
CLICK THE PICTURE TO GO TO THE PAGE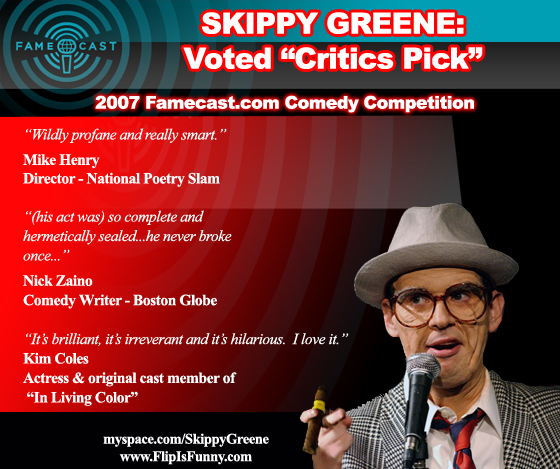 12/6/07
I am feeling so sick right now. I've got a cold or a bug or a flu or a disease or something...whatever it is it's made a lump of nothing of me. I haven't even showered yet today...and it's already 7:20 PM. Needless to say (then why say it) I haven't left my apartment today. Just rested and coughed up disgusting things. But enough of that...

So, the famecast.com finals were amazing! Skippy killed. The set should be up on their site tomorrow night at 9:00 PM (which is when voting starts up again...and you know what that means; more emails are going to be sent out) and if they edited it right, it's going to look fantastic. I did worry at one point in my act.

"Skippy" does this joke about the "N" word. I think the joke is funny and smart; it basically is making fun of racism. And in the joke I do say the word. Now, if you have an open mind and really see the joke for what it is, you'll laugh. But sometimes people miss the point and just see a white guy saying that word; nothing more. So before the show I felt that the joke might not do that well considering the crowd was a mixture of industry people and people who were just there to see comedy. Plus it was a racially diverse crowd as well. So I was hesitant to do the joke, but the other comics said, "Just do it." And then I thought, "You know, Skippy wouldn't change his act and since I'm giving myself over to the character, I'm not going to change the act." Wow, I really sound schizto sometimes.

Annnnyway...I got up there and started the show. It was going great! Applause breaks, laughter, the works. Then I did the "N" word joke and...silence. Awkward, piercing silence.

Now for a split second I thought that I made a mistake and that I shouldn't have done the joke. But I quickly change my attitude and continued with the act (the knock-knock jokes, for those of you who know Skippy's act) and by the end of them I had the audience back. And I closed strong on the "Man About Town" song. I got praise from one of the judges about my recovery from the "N" word joke.

I really felt like a great comedian because I was able to do that.

So anyway, I left Austin feeling really great about the show.

Oh, here's a neat thing I forgot to mention on my last blog. So I'm flying to Austin and I'm reading Steve Martin's new book, "Born Standing Up". It's his memiors about his days as a stand up and it's really fucking good. So anyway, I'm on the last page and his last story is about a radio show interview he did...and guess where the radio show was? Austin Texas! Is that weird or what?

I mean I'm reading a book about a brilliant comedian who was so different, and whose last story took place in Austin Texas. And here I am in the finals of a comedy competition, doing a different kind of comedy, in Austin Texas! You can call it a coincidence, but I call it a sign. That's the universe telling me that I'm on the right track.

I mean I always feel like I'm doing the right thing, but it helps to get that kind of sign, you know? It made me smile.

Alright, I'm still coughing so I'm going to get in bed and hope whatever this is passes over night. Hope you guys are feeling well...

Oh, and to my Hebro's out there:

HAPPY CHANUKKAH MOTHER FUCKER!

12/1/07
Greetings from Austin ya'll. I'm here a day early for the Famecast.com finals, so I went to see the Hip-Hop finals. They were really good. I'm getting excited about the show. Remember, if you're in the Austin area, come on down to Antones tomorrow night.
Last night I did a show in LA called Jewmongous, it was fun. I did two shows; one as me and the other as Skippy. I did fine...Skippy, not so much. I could tell that it wasn't the right crowd, but I wanted to run the set. Oddly enough I bailed on a joke because I had a feeling I was going to get lynched. :)
Anywho, I just had some fajitas and I can't think of a better thing to do before going to sleep, no? I have a feeling that my ass and stomach will be doing a lot of talking tonight.
Hold your breath...night.