2/28/05
I still need to see The Aviator, I'm watching a bio on Howard Hughes and it's pretty cool. Some might say, "Well why see The Aviator when you're watching a bio of Howard Hughes on tv?" And to those people I say...mind your own beezwax. Ah, I'm just kidding, here, I'll tell ya why. It's one thing to watch a bio and see archival footage and hear interviews with the 'people who knew him best', but it's quite another to see the story re-enacted by actors and lavish sets and effects. I think you can get more emotionally involved in a movie bio as opposed to a TV bio. Still feeling bad, I don't know what's wrong with me. My head is still hurting and my neck and back are killing me now too, I hate getting old. When I was a kid, if something hurt, I knew why. "Ow my arm!" - "What happened?" - "I banged it playing baseball" - "Oh, well that makes sense". Now it's like, "Ow my arm" - "What happened?" - "I don't know" - "Oh, well you're old". I never thought I'd be that guy, the one complaining about body pain. OH, and then I tried to put my contacts in my eyes, and they started to burn like a mofo! So then I took them out and holy shit, I was in soooo much pain! It felt like I had towels in my eyes, they felt so dry and hot. I couldn't open them for a little while. Then I had to go somewhere, so I had to drive, and the sun...my god that fucking sun...it was just killing me. When I got home I shut all the shades and layed down. I almost went to the Ramada, but I didn't want to go out feeling this bad. And besides, I've got to fly out Wednesday and stuff to do tomorrow, so why rock the boat, right? So it was a bad day for Flip...sob. Tomorrow should be better, like I said, I've got some stuff to do. I need to do the laundry and then meet with Lenny, who is directing the Skippy show, then I have to pack. And later tomorrow night, I've got a spot at the Laugh Factory. Pretty excited about that. So I started this entry talking about The Aviator, so let's talk about the Oscars, shall we. Honestly, there were no surprises...except for Sean Penn's complete lack of a sense of humor. Jesus man, Chris Rock made a fucking joke, I didn't see Jude Law have a press conference to defend himself. Rock was actually saying, "Who is Judd Law? I've never heard of him." He was just commenting that Jude Law has been in a lot of movies lately and he kinda came out of nowhere. Come on Penn, you were Spicolli for fucks sake, learn to laugh. And my goodness, how many people can you thank Ms. Swank? "I want to thank Mark Demon and Chad Sucklife, my agents. Jenny Eviel and Darren Seulass, my managers. Helen Punchy, my sparing partner. Bruno, my trainer. Dougy, the kid that got me that coffee one day. The crew: Stinky, Farty, Handy, Luggy, Darhma, Greg, Will, Grace, Joey, Chandler, Ross, Rachel, Monica, Phoebe, Gunther, Dopey, Sleepy, Doc, Sneezy, Grumpy, Bashful...Oh, what's the others name?..." Come on! Thank your hubby, Clint, make one inside joke and a sweet remark and get the fuck off the stage. I mean she was great in the movie, she deserved to win, but make it quick kid. Like I said, I'm gonna thank the family, friends and Oprah...and that's it! G'night.

2/27/05
The Oscars are halfway over, nothing too interesting about it really. I know I'm probably like every other actor/actress/producer/director/etc. who dreams of getting one and imagines what the speech would be. If I actually win...whoops, let me rephrase that, WHEN I win an Oscar one day, I think I'll mention my parents and brother, family, friends, all that stuff, but just for fun, I think I'll thank Oprah Winfrey, no reason, just so the next day people will go, "It's really cool that Flip Schultz won, but why the hell did he thank Oprah Winfrey?" I know it's a prestigous event and all, but don't take it that seriously. Chris Rock did really well hosting it, and I gotta tell ya, I felt really cool that I knew all of the material because I had seen him live a few times. The crowd dug it too. I've been kinda sick the past couple of days, so I'm resting a bit now. I picked up 2 weeks in Florida (Miami & W. Palm Beach) so I want to be well to travel. Man, nothing really interesting to tell you now, I know it's been 4 days since my last blog, but like I said, I've been sick. Um...damn, something's had to happen....lemme think. Oh, well, my contempt for women has been strenghtened, well, not for women, I take that back. My contempt for dating, that has been strenghtened. I don't want to go into details, just use your imagination. Aside from that, it's been really boring on the west coast, well boring for me. Alright, my head is pounding and I'm feeling quite shitté (that's French for 'shitty') so I'm going to call it quits. Here's hoping that Clint Eastwood wins!

2/23/05
I JUST KILLED A MAN WITH A CROWBAR AND LASAGNA!!!!....Sorry, my roommate said my entries have become boring, so I tried to start with a bang this time. I couldn't kill anyone with lasagna...unless it was from The Olive Garden..."Zaa Zing!" Kidding, I like the OG, of course, I haven't eaten there in years, so I guess I really don't have an opinion either way. I just needed a punchline, fuck it. Did a show tonight in San Clemente with Tommy Savitt and James Harris, it was fun. The women were beautiful and the crowd was fun. I came up with a great line on the spot, I could probably never use it again, but it was great for the moment. Actually, now that I'm thinking of it, maybe I could. Wow, I need to try that bit next time I'm on stage. Man, this could actually work. The joke that I came up with the line for never had a strong ending, so this could really be a good thing! Ooo, I'm excited! I know you guys can't tell that I'm excited, man, I wish there was an excited font or color or something....here: I'M EXCITED!!!! Alright? Alright. Got a meeting tomorrow night with the director of the Skippy Greene show, by the way, the show will be called: SKIPPY GREENE: WE LAUGHED.... For those who have seen Skippy, you'll get that one. We're going to go over the script and try and structure it a bit and make it funnier. This guy is a really good writer, so I feel that this will be a good collaboration. Usually I don't like to collaborate, I learned that when I did Flippin... the first time. Not that the other guy wasn't funny, it was just that he and I were using our own sketches that we had written seperately and we both wanted ours in the show, and it got ugly. With this, it's my script and he's helping me make it better, as opposed to him having his own script and the two of us fighting over which one gets performed. You got it? Good. Well, I'm just about to pass out, had a late, late dinner tonight, it was a great dinner but waaaay too heavy to eat this late. Deli, oy. So hopefully I won't be keeping myself up too much, if you know what I mean. You don't? Oh come on, don't make me say it. You seriously don't get it? Ok, ok, ok, it was a fart joke! Happy now? I just admitted to telling a fucking fart joke on my blog. Damn you and your black heart! Oh, I'm going to try and start a new catch phrase that myself and the other comics thought of it tonight. See Tommy recently colored his hair and me and James were giving him shit about it, but then we admitted that it does look good. So whenever we said something that was funny or when we wanted to compliment the other guy, we'd say, "You are so Tommy's hair". So let's spread that around, alright? Like if you're on a date with someone and they look good, you say, "You look so Tommy's hair", or if you're a boss and someone does a good job, say, "This report is very Tommy's hair". I think you get it. So get the word out. Hope your day is Tommy's hair!

2/22/05
I'm pretty excited, I have a new joke that is going to be great! Well, I hope it is, I've got a feeling that it will be. I tried it out tonight for the first time at the Improv Jam and it didn't do that well, but everyone said that the premise is great. I worked on it when I got together to write with Erik and Dwight today, along with a few other bits. I'm really in a creative mood now, been writing a lot of stuff lately. It's cool, as I look back at my material and how the quality has really improved, not just in the actual writing of it but in the subjects and points of view. That's how it should be, comics should evolve with time. There was material I used to do that I thought I'd never stop doing and years later, well hell, I'm embarrassed by it. Then again, maybe I should go back and look at it again, I could probably improve upon it. You'll find a lot of comics do that, rehash old material. I had this bit about how scientists said that being gay was genetic, that you're born gay, so I said then wouldn't they be gay right from the beginning, like sperm. And then I did this whole thing as a gay sperm. It was the crown jewel of my act in like 97ish, and then, as I grew, I realized the joke was a cheap laugh, so I dropped it. But at the time, I thought that joke was brilliant and that I'd never drop it. Maybe I should look at it again and try to make it better....here, lemme look at it....Hmmm....yeah....oh yeah....Nope, still cheap. Moving on. I'm hoping that when I get back to the Improv in Ft. Lauderdale, I'll have at least 15-20 new minutes of material so my family can legitimately laugh. The last time I was there, I had like 30 or so family members come to my show, sit up front, and not laugh. Not because they didn't think it was funny, it was because they knew all of my material. So when I'm there again in June/July, they'll laugh for real. Nothing shoots down your self-confidence like looking down and seeing your aunt trying to fake a smile and looking at you with that "Oh, we love you anyway" look on her face. Jews are good with a look. The look is always the same, but the meaning changes. Like when you show up at a wedding alone and the look says, "Oh, it's ok, you'll find someone soon." Or if you tell them that you're going to be on TV and then when everyone's over and watching it, waiting for you, and you suddenly realize you've been cut out, they look at you like, "Oh, we believe you were in it. It's ok." Oy. I'm over exaggerating a bit about my family, they're actually very cool and supportive, but I do get "the look" a lot. And that one about my aunt in the front row, that was true. Well, to quote a group of people who were about to take down a group of KKK members, "It's time to hit the sheets."

2/21/05
Had another stellar night at the Ramada Inn, seriously, why do I do this to myself? Last night I had a great show at the Improv where all of my new material killed, I was feeling so good. But I guess I thought, "Hey, why should I still feel good about my jokes when I could go perform and watch them fall on their asses!" You know why I do this...because I'm a comic damit! We need to take the good with the bad and experience the good with the bad. Whatever doesn't kill you right? In all seriousness, the material didn't do as bad as I'm saying, some stuff worked other stuff didn't. I'm working out this bit about those "Lance Armstrong bracelets", I think it has potential. I'm supposed to be meeting with some comics tomorrow to write, so I'll work on that then. I'm watching Almost Famous now, what a great movie, really inspires you. I think this movie and The Doors are the two that get me really inspired. If you're not amped up to do something amazingly creative after seeing these movies, then something might be wrong with you. Or maybe you just don't like these movies, and in that case, something is definetely wrong with you! Alright, the movie awaits, night.

2/20/05
I know this is going to sound weird, but I think Chris Rock is following me. I've seen him at the Improv 2 days in a row now, I'm telling you, he's a psycho-stalker...of course I'm kidding. It's so cool seeing him going up and working out his Oscar stuff. Tonight he was there with Gina Gershon...wow, is she hot! I find in interesting to see who the celebrities hang out with. Another night Chris Rock went up there, Demi Moore and Anthony Kiedis came with him. Another time Jerry Seinfeld showed up with Sacha "Ali G" Cohen. It is cool though, last night I was sitting at the bar with Chris and we were commenting about an amazing basketball shot that someone made. Not that he'd remember me or anything, but I felt like we bonded. OK, maybe I'm the stalker now. Last night turned out to be really fun, I was at the Hollywood Improv when my friend and comic Daniel Tosh asked me if I wanted to host the show in Irvine. I said sure. It was weird too, that night I was saying that I wish I could go up and low and behold I did...and I got a little money too. Tonight I ended up closing the show at the Improv in Hollywood and it was fucking great! I tried a lot of new stuff and it all worked! I'm really excited. New material working is better than cocaine...not that I know what cocaine is like. Seriously, I've never tried it, I've been offered a lot but never had the desire to. I've only tried a hand full of drugs, but it's very rare that I do anything. After the show was over, myself, Rob Troy (another comic), Reeta (Improv manager) and Vito (door guy) all had a toast to Vito who had his last day as a door man at the Improv. And then we all just bullshitted, it was really cool. These are the moments that I know I'm going to remember. These are the memories that really matter to me; just sitting around the Improv at 3 am, the lights are off, having a drink and just talking. God, I love these times. Alright, it's 4 am, stick a fork in me.

2/18/05
It is really raining hard out here, there's even thunder and lightning...a rarity for LA. Tonight was a lot of fun, I went out and celebrated my roommate's 22nd birthday with drinking and bowling. I got the highest scores in each game, thank you. 149 and 178, not bad, huh? My brother could kick my ass though, he's amazing. But considering I haven't bowled in almost a year, I was pretty happy, got 3 strikes in a row! Aw yeah. Today I did some work on the SKIPPY GREENE show, it's really coming along, but what's even cooler is that I found some people who are interested in being a part of it, including a director for the show and for the video pieces in it! Yeah, it's really starting to come together. What's really great about this is that it is giving me something to occupy my time with. Career-wise, things have kinda slowed down, not with touring (thank you Pablo) but with TV. I seemed to have lost my agent due to some complications with another professional matter, don't want to get into it. So this pilot season is a wash for me, but everything happens for a reason, right? It's weird, this is the first time since I've lived out here that I don't have representation, I feel kinda naked, and a bit like I back tracked. I know that realistically I didn't, that I have been out here for 4 years and have made progress, but in the idea of not having rep., it's a bit frightening. Aw hell, change is good. Fuck it. I'm just gonna keep doing my thing and then everything else will happen in time. Let's hope that attitude stays positive! Send your good vibes my way people. Last night was a treat, I was at the Improv just hanging out when who should walk in, Chris Rock! Yeah, he was practicing for the Oscars, isn't that cool? That's why I love the Improv, you never know who's going to drop by. I've seen Seinfeld, Tim Allen, Chris Rock a few times, David Spade, it's insane. And just imagine how that crowd felt; it was a late night show, only about 30 or so people there, they just thought that they were going to see a few funny comics and then BAM!, they get Chris Rock. But back to Rock's Oscar stuff, if he uses any of the things he did last night, this show is going to be GOOD! I don't want to ruin anything for anyone, but I'll just say this, "he ain't no Billy Crystal". It's not sugar coated, it's not safe, it's funny and it's no holds barred. God bless him. Oh, and Richard Jeni was with him, I guess he's helping him write. I couldn't think of a better writer than Jeni, he is amazing. Jeni is one of those comics who will take a premise and mine it for every possible laugh. It's amazing. Damn, the rain is really coming down now. Not too much else to report, feeling pretty good otherwise, I think that has to do with the writing that I'm doing. Writing always recharges my creative juices and especially when I print out what I've done, that's a great feeling. To actually hold tangible proof of your work, it feels real good. Oh, I'm going to also try and get my movie script off the ground, I now have a friend in a very high place, so I'm just going to call in a blatant favor, see if there's anything he can do for me. Alright, I'm going to fall asleep to sounds of rain drops and thunder.

2/16/05
Had a great show tonight at the Improv for the AOL showcase, I did the new joke and it fucking killed! I wish I would've taped that show just for that joke, it was that great of a response. I think the only time I ever got that positive of a response from a brand new joke is when I first did the "Shark Bit". The new joke is about getting a manicure and how the ladies are more pushy than the guys at Jiffy Lube...you'll have to see me live to hear it! Nah-nee-nah-nee-boo-boo! The rest of the night was fun, got to hang with some buddies who were also performing there: Erik Passoja, Dwight Slade, Mike Burton, Adam Gropman and others. The crowd was a bit weird, not really into the high energy stuff, so I pulled it back just a bit, I've learned to gauge the audience that way. I can tell if they've got the energy or not. When I'm with Pablo, I know the audience is ready for the energy, hell, they're coming to see Pablo, he IS energy! Speaking of which, I spoke to Pablo today and there is something really cool in the works, hopefully it will happen, and if it does, I'm going to be a part of it. More details to come. I was having a discussion about the comic ANT from Last Comic Standing and how I can't stand his comedy. We get it, you're gay! Move on. I mean how many different gay jokes can he do? I know a lot of gay comics who have a few bits about being gay and that's it, then they do clever material about other things. Everytime I've seen ANT (granted, it's only been on TV) all of his material is about him being gay, or how being gay is tough, or a pun on being gay, "Three queens beats a straight!", and by the way, I heard that on Will & Grace. "Come on Ant, do a joke on politics" "OK...hey, you know why I couldn't be President? Because I'm gay! It's not going to be a White House anymore, it'll be the Pink House...cause I'm gay!" "OK, how about a joke about the space program?" "Sure, you know why I won't be an astronaut? Cause I'm gay! I'll be going into the black holes!...cause I'm gay!" "Come on, do something about the tsunami." "OK, that's a serious subject. That's something you shouldn't joke about...but I bet that the tsunami was caused by a gay guy, because everyone knows that a queen has a killer wave!" Oy vey, give it up. Sorry. Just to make it clear, I'm not bitter or jealous or anything, it just pissed me off when a comic is one-dimentional and hacky. I love Joe Rogan, on the first season of LCS he called ANT out as a hack, it was beautiful! But on the second season, ANT got on the show, only God knows how...actually, only NBC knows how. God...NBC, eh, they're almost one in the same by now. Ooo my heart!

2/15/05
Evening all...well, actually it's morning by my time now. This is my life, I'm up until about 2 am and I wake up at 11 am, it's tough. But it's all part of the job, I definetely don't have what one would call a "normal" life. I was talking to my brother the other day, he is in the loop of life. He's got the regular job, a house, morgage, live in girlfriend...it's strange, but my little brother is a full blown adult. I'm extremely proud of him, he's really a great guy, it's just amazing that the kid that I used to play Transformers with and beat up...well, try to beat up (he is a tough kid)...it's hard to believe he's an adult now. A responsible, mature adult, very strange. But anyway, his life is in that "real life" kinda groove, meanwhile big brother over here is being a professional jokester for a living...and loving every single fucking minute of it! :D God, I'm lucky. I don't want to sound like a ego-prick or anything (too late, I know), but I really feel blessed. As much as I bitch about not being famous or on TV as much, I do always remember how lucky I am to do this...and to survive doing this. But that doesn't mean I am going to stop, no sir, it's a never ending journey to near perfection. No comic is ever perfect, that's what's so great about this job. You always have to work, speaking of which, I did 2 open mikes tonight. A new one that my friend runs just near my apartment and then I went to the Improv. I had met with Erik Passoja this afternoon and we helped each other with our bits, well tonight I tried a few of them. One of them is working really well, I think I might do it tomorrow for the AOL Comedy Showcase. Yes, I'm doing another one. I'm very iffy about doing out a bit that is so new for something like this, but I think it's that good already. Then again, for my last one I did the "Gang Bang" joke and it wasn't quite ready. I dunno. Anywho, eyes are heavy, stomach is full and mouth is yawning...

2/14/05
And how was your Valentine's Day? I hope it was wonderful, mine was more of the same, uneventful as far as romance goes. My show tonight was pretty good. It felt a little weird in hindsight. It's a Valentine's Day show and I did so many bits about how relationships suck and how I hate Valentine's Day. And I swore a lot, well, not more than usual, but for some reason tonight it felt a bit more apparent. I think the crowd thought they were going to get a show where a comedian talked about how men and women are different and how much kids suck, and blah-blah-blah. What they got was me and Pablo, that's not quite a relationship show. But anyway, I was talking about the cursing, I know that I curse but it's conversational, it's how I would talk when I with my friends, when I'm comfortable, and that's how I am on stage. If I was up there being aware of what I say and how I say it, I think I would come off as uncomfortable and more "reciting" rather than just "talking". But let me stress this too, even though I curse, I'm not vulgar. There is a difference between profanity and vulgarity, it might be the same words, but a different idea. For example, profanity would be someone saying, "Oh shut the fuck up asshole, you're full of shit", you know, just like you're talking to a buddy. Vulgar would be saying, "Oh, last night I fucked a girl in the asshole until she shit!" Same words, different idea, see? I know, that was gross, but that's vulgar, and I don't really do jokes like that, unless it's as Skippy Greene. Or I might be gross but I acknowledge how bad it is. I'm watching a special on Comedy Central now about the history of Hip Hop Comedy, it's very interesting. I don't care for Def Jam Comedy, because to me that's just cheap, dirty jokes. They use vulgarity AND profanity and it's not funny, just shocking. I don't know, maybe I can't relate to some of it. I have seen so many black comics and there are a lot who are hilarious without being "def jam". They might curse too, but the material and premises are very clever. It's the ones who just go, "How many ladies like to suck dick!? Ladies, you need to suck the dick!!!" And the crowd goes nuts, see, that's not comedy, not to me anyway. But then again, as I have stated before, comedy is subjective. Alright, bed time.

2/13/05
Well, since it's already past midnight as I write this, I guess it's official...HAPPY VALENTINES DAY...hoo-fucking-ray. What's that? Aw...you're holding your little angel in your arms right now??? Dear God how adorable...oh, look at this, look what I have for you...here, lemme get it...
(botox joke!). Nooo, I'm not going to be bitter this Valentines Day, I just won't care. Thank God I'm working though, that will make the day more tolerable, it's like: "Hey, even if my d!*k's not getting stroked, at least my ego is." The shows this week with Pablo have been pretty good, tonight's second show was really, really good...and yes, we had a second show added on a Sunday, Pablo is that popular. For some reason, my shows this week have felt less than adequate for me. I just haven't felt I've had the audience on the chain. Oh, I'm not sure if you know what I mean by that, lemme explain: (this is my favorite analogy for doing comedy). Do you remember when you were a kid and your chain feel off of your bicycle? Well, to get the chain back on, you'd have to set it up and then pedal to catch the chain, and it might take you a few times before you finally got the chain back on the bike so you're both in time with one another. It's the same thing with a comedian and the audience, you have to be in time and rhythm with each other for the show to move. And it might happen right away (like it did for tonight's second show), the audience is completely in tune with you from the beginning and it's a fun, easy ride to the end. Other times it might take a little while to finally get'em, you might have to tone down the energy to get with them, or bring the energy up, etc. And other times, you never get them, no matter how many times you try to pedal, you never get them on the chain. And when that happens, it's a very long, awkward, uncomfortable 25-45 minutes, trust me, I've been there. But I digress... Today I did something I had never done before, you wanna know what? Come on, guess....nope....what did you say???? Oh, no, I thought you said something else. Give up? OK, I'll tell you. I got a manicure. Yes, I officially crossed the line into flaming metro-sexual, I had my nails clipped, primped, dipped in wax and buffed. I'll tell you, those women are more persuasive than the mechanic at Jiffy Lube. The guys there are like, "Well, looks like you're gonna need a new filter and some high test oil...", but they're NOTHING as compared to persistant Vietnamese women, "Oh my, you need to get the warm wax...oh, you should get the buff and polish, all the men get it." "Really??? Well you're the expert, ok." Meanwhile I'm sure they're all laughing and talking about me in Vietnamese, "I can't believe he felt for the wax!" But I have to admit, my hands look and feel great, it's a little treat to myself. But to offset the sheer queerness of that, I'm going to go to a football game, then go to the gun range and then buy me a whore. That should about balance everything. OH! I also want to say a special thank you to Michele, aka Puppet Lady for a really cool Valentines Day gift. See, why can't the rest of you take a tip from Michele, send me gifts and I mention you on my blog! :D I'm taking early donations for The Ides of March, send those gifts'a coming. Wow, what do you send for the Ides of March? I guess the closest thing would be gift certificates to Little Ceasers Pizza...hey, I'll take'em! Is that place still in business? I remember they were my favorite kinds of pizzas when I was a kid. Everytime someone had a birthday party, they always got Little Ceasers, t'was da bomb! Alrighty my bloggers and bloggettes, it's time for Uncle Flippy to hit the ol' hay and say good night, and again, Happy Valentines Day. Now go get laid...I'm gonna look in the whore catalog and find me a good one...hey, here's one that looks just like Kelly LeBrock...son of a bitch, it IS Kelly LeBrock! Woo-hoo!
2/10/05
Tonight was a much better show, tight and didn't do the religious material. Although I did make a bit of a fuck up. Pablo mentioned that a bit I do is similar to his, it's a different premise but the idea of the joke is the same. We both have jokes that take place at a big concert where we say something as the band ("Are you ready to rock!?") and then have the crowd cheering back. So when he said that, I said, "OK, I won't do that then." I thought he was saying that since our crowd cheering was the same, I should change that sound effect. Again, we both make the sound of a crowd cheering the same way, we cup the mike and blow/scream into it, the effect is really good. So anyway, I did the joke but instead of doing a cheering crowd, I just raised my fist and screamed, "Yeah!". When I got offstage he said, "You still did the joke". Afterward I told him how I misunderstood and I won't do the bit in front of him anymore. Now let me stress that he did not throw a diva fit or anything, he was very, very cool about it. I would never do a bit that he didn't want me to do, I wouldn't do that for any headliner. Some comics might say, "well fuck that, I'm doing my act and if he can't follow it, then he shouldn't be headlining." I find that wrong for two reasons: #1 - Pablo has been extremely good to me as far as gigs go, so I don't want to do something defiant for the sake of one bit. That's stupid, and besides, Pablo is a friend of mine too, so that would also be a dick thing to do as a friend. #2 - He is the headliner, and headliners have worked hard to get where they are, so the other comics on the bill need to show some respect. And the show works better that way too, if I don't burn a premise or a bit before Pablo does it, then the show is that much better. OK, I think I might've lost myself on that last sentence...basically what I mean is this; I don't need to do that joke, it's not a big joke in my act, I can easily replace it with something just as good. So now the whole "cheering crowd" thing hasn't been done, so when Pablo does it, it's going to be really funny and a surprise, as opposed if I already did it before him. Oh, and for those of you not in the know of comedy terminology, to "burn" something means to already do the premise/bit/joke in the show. Like if I did prop comedy before Carrot Top, I burned the idea of prop comedy from him. Then again, if you ever see me doing prop comedy, just kill me. Other than that, my day was pretty uneventful, just hit the gym a bit. I also made a big mistake after the show, I hit Carls Jr. (fast food) and got a big, discusting burger and fries...oy. It's sitting so bad right now. I've been trying to eat well this past week and decided that tonight I'll give myself a treat...no more. I've also decided to cut soda out of my diet and I'm trying not to drink as much. New Years resolution baby! Hopefully in a month or so I'll see a difference. Wait, let me look in the mirror now...Ooo, sexy, sexy bitch. Hell yeah I'm a fine piece of meat baby! Oh wait...that's not me. Who the fuck is that?!
2/9/05
First of all, thank you "puppet lady" for you guestbook entry, I sometimes forget that people actually read this. I am feeling better about yesterday, I guess it was one of those "in the moment" things that I just needed to vent about. I still have a heart and as much as I want to be a dick, I think I'm always going to be a romantic at heart. The trick is to not lose yourself in emotion and forget logic and dignity, if I can walk the line between the two (romance and self-respect), I think I'll be just fine. Tonight was my first show with Pablo in Irvine and it went alright. I was only given 15 minutes to feature, which sucks, I usually like to do at least 20 in the middle spot, at 15 I've just reached my stride, but I figured with such little time I should just do the "best of" set. It started out really strong, did some of the old standards, threw in some new stuff, did some crowd work. Then I did the "Moses Morrison" bit (which is still fairly new) and a brand new bit called "The Real Bible", both, obviously, have religious themes to them. Well they both kinda fell flat in my opinion. I guess Irvine isn't the best place to do religious jokes. And when I looked at my watch, I was already 1.5 minutes over, so I didn't even do the "shark bit", I just closed on "Ozzy". It's a bit hack, but it gets a laugh. My sales kinda sucked too, I just didn't feel it tonight, but I've got 8 more shows, so I think I'll be fine. I just like to do new stuff when I come back to a club so people can have a variety, you know? And I know that some people at the show had seen me before, some as recent as last month for my New Years shows in Brea. One guy even recognized me before the show, that was very cool. So tomorrow I think I'll throw different new stuff in and not do the religious jokes. And I know some comics would say, "Well fuck it, I'm going to do the show I want to do and to hell with the audience!" I sometimes feel that way, but that's only if the audience's are stupid or ignorant. For the crowds in Irvine, they're nice people who want to laugh, so why would I do something that I know won't make them laugh AND it will offend them? That's just smart business and smart comedy, a good comic knows how to read his audience. I need to shave, I've got stubble and it itches. It's weird, when I was a kid I couldn't wait to have facial hair. I remember how jealous I was when my friend Craig started to shave (years before I did) and I would ask him, "what does it feel like??" Now, now I hate it, unless I'm trying to grow it, but we all know how that turned out. Who knows? Oh, by the way, I sent out something on my mailing list, but I'll mention it here too. I'm starting a new feature on my mailing list called "Ask Skippy". Anything you want advice on, like love, career, sports, comedy, anything, you just ask and Skippy Greene will answer. Just email Skippy...and yes, I do have an email just for Skippy. :D Alrighty, I'm off to watch some hay and hit the porn, wait...reverse that.
2/8/05
OK, I had a really bizarre night tonight. I don't want to get into specific details but let me just say this, I hate women and don't understand them. There, vague and to the point. Someone that I liked had told me that she's interested in someone else and has been for awhile now. And I asked, then why were you hanging out with me, "Oh, I don't know. I feel that he won't ever like me the way I like him....", blah-blah-blah. So what it seems to me is that she was using me to try to get over this other guy, what the flying shit is that??? Come on. Why, why can't it ever just work out for me? Maybe I should just be a dick like Tom Lykis says. He says that guys who treat women like shit will always get the women and guys who are sweet and romantic are pussy's and will always get hurt. I'm telling you, I think I need to change. I was a dick tonight to her, I ignored every instinct of mine to say, "Oh, that's cool, whatever...", I was pissed and, as I said to her, "dissappointed". And in all honesty, I was probably a bit too harsh and rash, it's not like we were that serious, but I couldn't stop myself at the time. And I'm sure she felt bad about it, but I didn't care, I was hoping she felt bad. And that's a shitty thing to say because she's a sweet girl, but...fuck it, I'm not going to just "take it". I did that with my ex, (I know, I keep harping on my ex, but that's my last experience with any kind of relationship) she used to treat me like shit and I would say, "Thank you, can I have some more please?" And all it would do is fester inside of me and kill me from the inside. Like I said in my previous posts, I'm not going to lie back and not speak my mind. Of course being Valentines Day week didn't help the matter. It's official, over 20 years without a date on Valentines Day, hooray! Fuck it, fuck love and fuck girlfriends. I'm telling you, I really think I'm going to be a dick from now on. Romance is dead. It seems that women nowadays just want to "party, and screw around and not be tied down", well fine then ladies, fine, I'll accomodate you and do the same. Wow, I am bitter now. I don't know what else to do or to feel, I'm just lost as far as women go. I don't want to come off as pathetic right now, I hope I'm not, I'm just saying that romance is dead. Sometimes I wish I was alive during the Elizabethan times so I could woo a woman with poetry and flowers and be appreciated not rejected or used...but then I remember that they didn't have plumbing back then and I'd have to empty my own shit into a river or something. So I guess things could be worse, huh? Alright, enough rambling of the love lorn lover. Fuck...You know what's really sad, I wasn't in love with this girl or anything, like I said, it wasn't that serious, it was hardly anything. I'm just sick of not being able to take any kind of relationship with a woman to the next level. Every single one of them! And I've fucked up a few in my day too, I'm not just a victim here, sometimes I've been the hurter. But when is it over? When do you fall into something that works? You wanna know irony, get the "Punch Drunk Love" soundtrack and listen to Jon Brion's song, "Here We Go"...that song just came on when I finished typing that last sentence: "When do you fall into something that works?" Wow. (Lyrics)
2/7/05
Tonight was a typical Ramada Inn night, small crowd, unenergetic and I just layed down some new material on them. I had a few bits that did alright, but the majority of them were either new jokes or just ideas that I fleshed out. Hey, that's what the room is for. I chatted with Amanda Egge for awhile and then headed home. I added a new video on the homepage, just in case you entered without seeing it. A friend told me that I seemed pathetic on my last entry, that he felt sorry for me. I just want to reitirate, that post was meant as a positive thing, it was meant to say that I used to be a push-over and weak, but lately I have had this overwhelming feeling of strength to just speak my mind and to hell with the consequences. Not that I'll be a dick all the time, if the moment warrants sublty and tact, then I will be softer with my comments, but if someone is pushing me, you'll be damn sure I'll push back. That was my point, so if you feel sorry for me, don't...unless you're a beautiful woman who wants to make me feel better. But chances are you're a 15 year old boy looking for porn, and you won't find it here. Actually, I should put a hidden porn link somewhere on my site, that would really up the traffic to my site, huh? Nah...with my luck people will start to expect porn at my shows and I'll have to have live sex within my comedy act. Then again, when I have sex that usually means comedy! "'Cha-Ching!' Thank you, thank you, I'll be here all week! Are you ready for your feature act?!" Sorry, inside joke. Alrighty, I'm off to bed, it's late and I'm rambling about my sexual prowess, that means Flippy has gone bye-bye.
2/6/05
Evening all, it's about 4 am Canmore time and I'm just getting in, late night and GREAT shows! Tonight was the last night of the festival and it was fantastic, a real great way to end it all. I did two shows, both of them were fantastic. On the second show I went up twice, once as Skippy and then I closed the show as me. Skippy fucking killed! It was great and I got it all on tape! I went up after 8 other comics (including Skippy) and even though the crowd was tired, they still had enough energy for me. I was really happy with both sets. This has been an amazing time for me, thanks to all involved. I've got to fly out tomorrow at 4:00, so luckily I can sleep in. I'm going to miss the Superbowl, which sucks. Not that I'm really into football, but it's a fun time to watch the game. Right now a lot of people are in a room smoking from a hooka and beating on drums...I'm serious. I would usually hang out, but there's just too many people there right now and it's a bit too loud, so I would rather just chill in my room right now and listen to my music...which I am doing. Wow, I bet you're all just inthralled, aren'tcha???? I made a few more changes to the mainpage of the site, I really like it. Man, my train of thought is really not that straight, is it? I just drift off of a thought and go to something completely different. Maybe I have BADD...Blog Attention Deficite Disorder? Ha, God am I funny! I've been in a bit of a fighting mood lately. I've had a huge falling out with a friend of mine, but I'm ok with it. I felt very pushed and insulted and rather than just sit back and take it, or just walk away like the "bigger man", I said fuck it and fought back. It sucks that a once great friendship is ruined, but I don't regret anything that I did. It feels good to fight back. I've always been a pacifist, and though I never got hurt (either physically or emotionally), I still felt very weak for it. Now I am learning to fight back and speak my mind, and to hell with the consequences. It's a very liberating feeling. Anyway, I think I'm going to pass out now, g'night.
2/5/05
It it sooooooo freaking beautiful here, I can't get over it. Last night I was standing in the snow and catching snow flakes on my tounge, I know that's what kids are supposed to do, but since I have only seen snow less than 8 times in my life (and I've only seen in fall maybe 3 times), I figured I should make up for lost time. It's also very COLD here too. I put that video of me freezing my ass of on the main page, that was real folks. I'm even wearing thermal long johns now, I'm such a pussy. I'm really mad though, I wanted to go with another comic and take snow boarding lessons. He had signed up but I didn't, so I got up early today and called them, they had a message saying that on Saturdays, you need to call at 10 AM, and he said the lessons started at 9:45. So I called him, left a message and then just "rested my eyes", well, the next thing I know it's 9:30 and I missed his call telling me, "Just come, I'm sure they'd take you on." Fuck! I really wanted to do this. The only thing I was hesitant about is taking the chair lift to the top of the mountain, I'm very afraid of heights. Oh shit, now I gave out my weakness...damn!!! The shows here have been great, really fun crowds. I got one of them on tape last night, so I will try to post some clips from it. I have also been taping the audio from my shows recently (I bought a cool new mic for my minidisc, I'm a geek) and so I'll post some brand new clipss from those shows as well. The "Moses Morrison" joke is really coming into its own, it's getting applause breaks. As a matter of fact, the other night was my headlining show and I was having so much fun that I lost all track of time. So when it was time to wrap up, I hadn't even gotten into the 'reality TV' section of my act where I lead into the "Shark Bit" and close, so instead I closed with the "Moses" bit, and it worked! Now I am sitting in my hotel room while the other comic sleeps (it's noon) and I think I'm going to get some food and explore more of the winter wonderland that is Canmore. All the best my friends!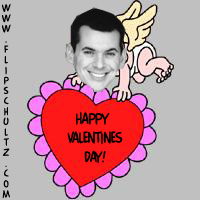 2/3/05
Can't talk long. I'm in Canada now, and holy shit is it beautiful. I'm in this town called Canmore, it's in the Rocky Mountains, it's just stunning. I took a walk with another comic, Chris Fairbanks, and we just took in all of the beauty here. I'll post some pictures and a little video I made with my digital camera. I've got to get ready for my first show of the festival, later...ay!
2/1/05
Two weeks until Valentines Day and I can't hardly wait! (insert sarcasm here) I know it's trite and unoriginal to say, but I hate the idea of Valentines Day; just one day of the year to be nice to someone, oy. Maybe I'm just bitter because I don't have a girlfriend, actually, I've never had a girl friend on Valentines Day. I've been broken up with twice on V-Day, don't think that counts though. Anywho, I'm tired and about to pass out. I'm flying to Canada tomorrow, gonna be flying all fucking day, yay! But I am looking forward to it, should be beautiful up there. I should have some pics of me falling on my ass while trying to ski. I'm in a bit of a bad place now, an associate of mine (by the way, 'associate' is a nice way of saying a 'friend who's a real prick') has pushed me to the limits of anger and frustration. It's too complicated to get into, but it's been making my blood boil, and in situations like this, I would usually not say anything and just never talk to them anymore. Well, in this situation, I decided to let all my emotions fly and just tell them exactly what I think. And it didn't help, I'm still angry and frustrated, and I hope he's reading this, because you can kiss my ass you stupid prick! OK, breathe Flip...breathe... My dad always had great advice for a situation like this, "never let someone you hate occupy your thoughts rent free", so I'm kicking you out of my mind...prick. OK, now he's out. OH, I just booked a lot of new Tour Dates, so check'em out and please come on by the shows. Jeez, not much more to say, that sucks. It's weird, I'm full of anger, but I can't say anything here, mainly because it's too complicated to explain and I'm sick of telling the story. I think I had talked about this before, but when the fuck do you grow out of fighting? I guess you don't really grow out of fighting, you just grow into grown up fighting. When you were a kid, you would fight by hitting and/or name calling. As you get older, you fight by not fighting, by being the bigger man. Or sometimes you sue, or you guilt...and I guess you can occassionally throw a punch and call someone a prick. (see above) Well my associate has not grown into the grown up fighting, so he insists on name calling and I debased myself by doing the same. Now, now I'm just tired of him and wish he'd just grow up. OK, I'm done. My eyes are getting heavy...and so am I for that matter, I need to hit the gym. I say this all the time, but I mean it this time. Wow, does that sound like the line of the century. No, I really do mean it, when I get back to LA, I am going to hit the gym like I used to, and I'm going to try to eat better. This will be a "close to" new years resolution. By the end of the year, I will be trimmer and fitter. OK? OK. The next time anyone who's reading this sees me, I want you to say, "Hey you fat fuck, workout some more!" You guys will be my motivators! I'll pay you back in jokes and good vibes. :-D Thanks. Night.