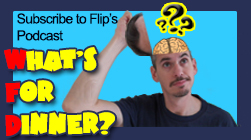 ---
NEW MERCHANDISE IS HERE!!! For the ladies, check out the new Wife! T-Shirts. And for the first time, all of Flip's DVDs (including one from Skippy Greene) are now available for download!! ONLY $5!!!! Check out all the merchandise now at the Store Page.

New videos have just been added to the Video Page.

Flip recently filmed an episode of Comics Unleashed! Look for it airing sometime this winter.