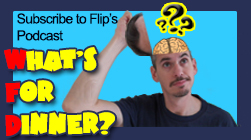 ---
Friday, Nov. 4, Dana Carvey's new Netflix special premieres. And what's even more exciting is that Flip co-wrote it with Dana!! Look for his name in the credits!!

For the first time, all of Flip's DVDs (including one from Skippy Greene & his new online special "Supersillyous") are now available for download!! ONLY $5!!!! Check out all the merchandise now at the Store Page.

New videos uploaded to the video page.


Support Flip by listening to and subscribing to his Pandora Station