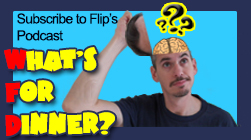 ---

Support Flip by listening to and subscribing to his Pandora Station
THE NEW MERCHANDISE IS HERE!!!



Flip's brand new CD Flipzophrenic! is now available for purchase on iTunes and Amazon! Or you can buy a physical copy at the Store Page! And his new comedy special Supersillyous is available exclusively as a video download at the Store Page! Only FIVE DOLLARS!!! You can see some clips from the special on Video Page

For the first time, all of Flip's DVDs (including one from Skippy Greene) are now available for download!! ONLY $5!!!! Check out all the merchandise now at the Store Page.

New videos uploaded to the video page.